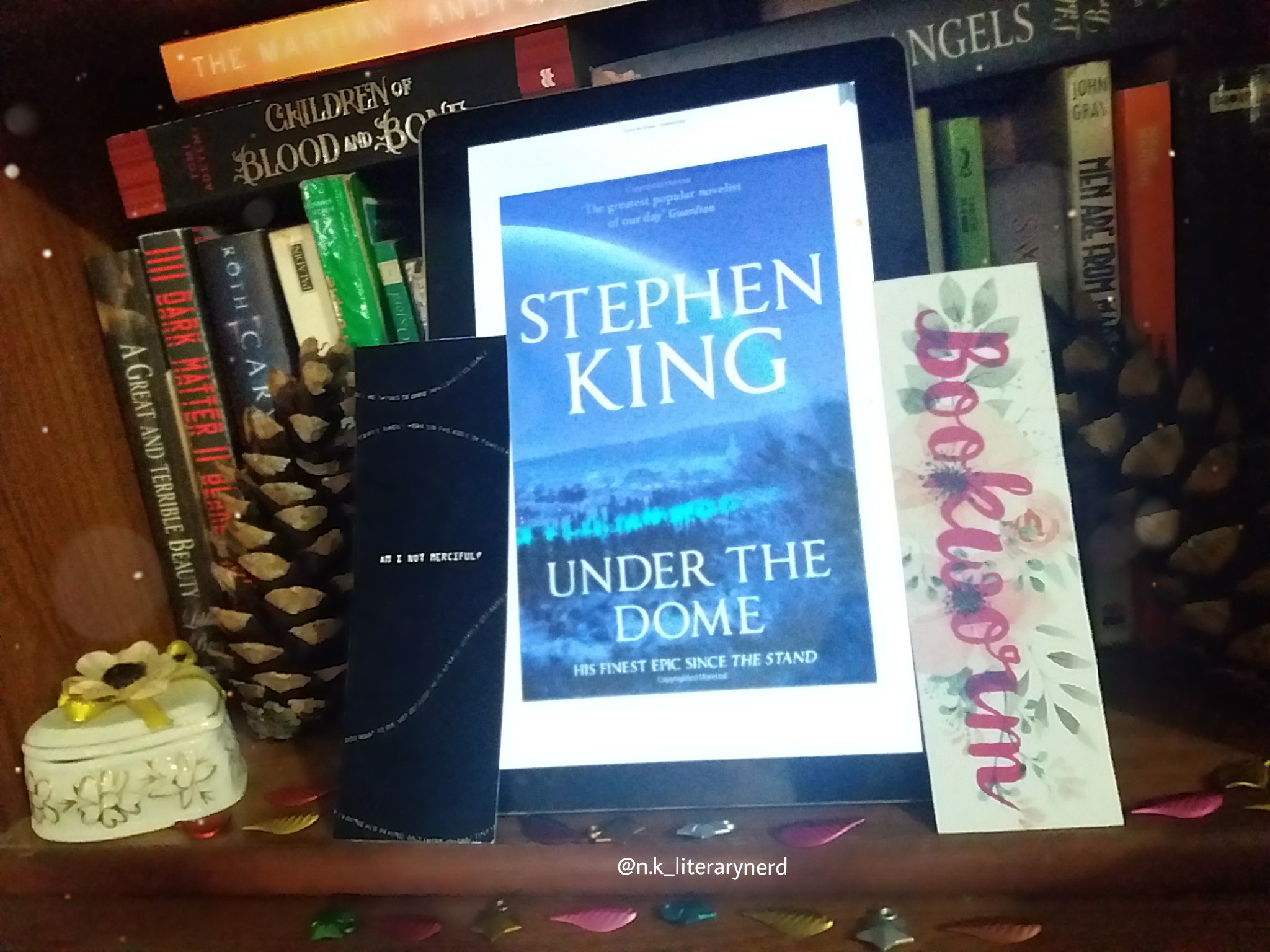 Goodreads Synopsis:
On an entirely normal, beautiful fall day in Chester's Mill, Maine, the town is inexplicably and suddenly sealed off from the rest of the world by an invisible force field. Planes crash into it and fall from the sky in flaming wreckage, a gardener's hand is severed as "the dome" comes down on it, people running errands in the neighboring town are divided from their families, and cars explode on impact. No one can fathom what this barrier is, where it came from, and when — or if — it will go away.
Dale Barbara, Iraq vet and now a short-order cook, finds himself teamed with a few intrepid citizens — town newspaper owner Julia Shumway, a physician's assistant at the hospital, a select-woman, and three brave kids. Against them stands Big Jim Rennie, a politician who will stop at nothing — even murder — to hold the reins of power, and his son, who is keeping a horrible secret in a dark pantry. But their main adversary is the Dome itself. Because time isn't just short. It's running out.
Book Review:
I started reading Stephen King books 2 years back because his books are really famous and I love reading horror/mystery/thriller novels. I think I probably started with Dream catcher but did not really liked it. I loved The Shining and IT. So this is my 4th Stephen King book. I do intend to read all of his books.
Basically when I first read the synopsis of Under The Dome, it really piqued my interest. I put it in my to read list and now when I have finally read the book, I am like 'What the hell was that?'
"Murder is like potato chips: you can't stop with just one."
From the synopsis, its clear that the town is surrounded by a dome and nothing can break it. So there is a whole mystery about this dome which continues throughout the story. The big reveal comes at the end of the story. This mystery was so intense that I couldn't put the book down. When the murders started happening, I was like 'Ooh this is getting even more bloody. Mystery with a little bit sciencefiction.'
"When the dawn was still long hours away, bad thoughts took on flesh and began to walk. In the middle of the night thoughts became zombies."
When it comes to the characters in horror/mystery books, I love read about bloody ones the most. Yes, you are thinking correct, I bloody well enjoyed the killings and murders.
In this story, there were some really smart kids who try to solve the dome mystery. I really enjoyed reading that.
My favourite characters from this book are: Big Jim Rennie, Junior Rennie, Colonel Barbara, Joe McClatchy, Julia Shumway, Rusty Everrat, Carter, Colonel Cox.
As you all know King's novels are lengthy, so was this one. It took me a week or two to complete it. That was a bummer but the intense mystery and suspense kept me going and ofcourse the bloody scenes. I was a tad bit dissapointed at the ending. I was hoping for a big revelation or something and it turned out to be a bit mediocre.
So what was the big mystery about this dome? Read the book to find out. Not giving up spoilers here. This book is definitely worth reading.
My ratings: 4/5 ⭐⭐⭐⭐