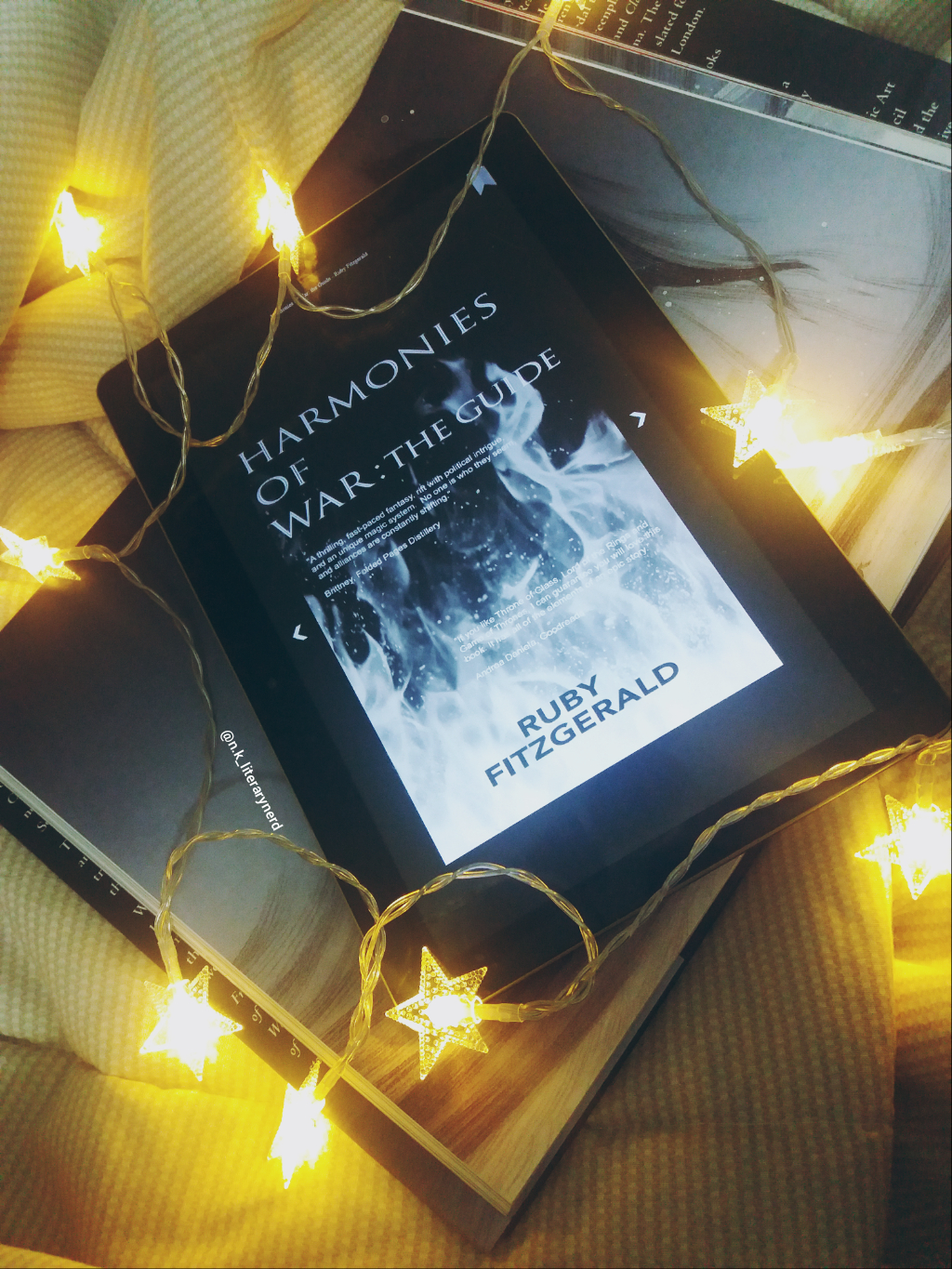 Book: Harmonies of War: The Guide
Author: Ruby Fitzgerald
Genre: Fantasy
Goodreads Synopsis:
Harmonies of War is your 'Season 1 Recap' for Descendants of War.
This ground breaking Epic Fantasy Series opens the door for mental health. The majority of society will experience anxiety or depression at once point in their lives. There are so many negative voices that come with, and the rare hopeful ones. Imagine you could take the voices of depression, and create a world where the most oppressed in society co-exist with a different set of rules. Magic.
The Descendants have been gifted magic, The Nine Energies, and when an evil leader is dead set on conquering The Temperate Lands, the only chance they have is a fiery haired Descendant and broken pieces of an Ancient Prophecy.
Aurora is left for dead by an evil King Zagan, Eleanor believes in protecting her Queendom through sheer manipulation, and an army of brainwashed Descendants will stop at nothing in pursuit of freedom. In a world where self doubt, isolation, and zero loyalty rule the day, can love and hope prevail? 
My Review:
"The Scarlet Prophecy tells of a young woman, hair as red as flames, who will be chosen to receive all nine gifts of energy. And with all gifts, she will be more powerful than even the ancients were."
At first, i thought this book is the sequel to descendents of war: magic's demise but when I started reading, I discovered its the prequel to the book.
It was very slow paced in the beginning and I kinda forgot about it for a while because of the excitement of starting other books. Then I remembered I left this one after reading half of it :p
This happens with me rarely though.
Since its the prequel, i got to understand the characters even more through this book. I discovered that my dislike for queen Eleanor was right because omg! the games she played to do the right thing….
Ahh! well not giving spoilers. I really enjoyed reading this prequel, it was actually very compelling. The events of the war of venom were unfolded in this prequel. I loved how the author brought forward the origin of the characters.
Thank you again to Ruby Fitzgerald for entrusting me with her books and letting me to read and review them. 
My Ratings:
☆☆☆☆/☆☆☆☆☆
4/5 stars.
Find the Author at: