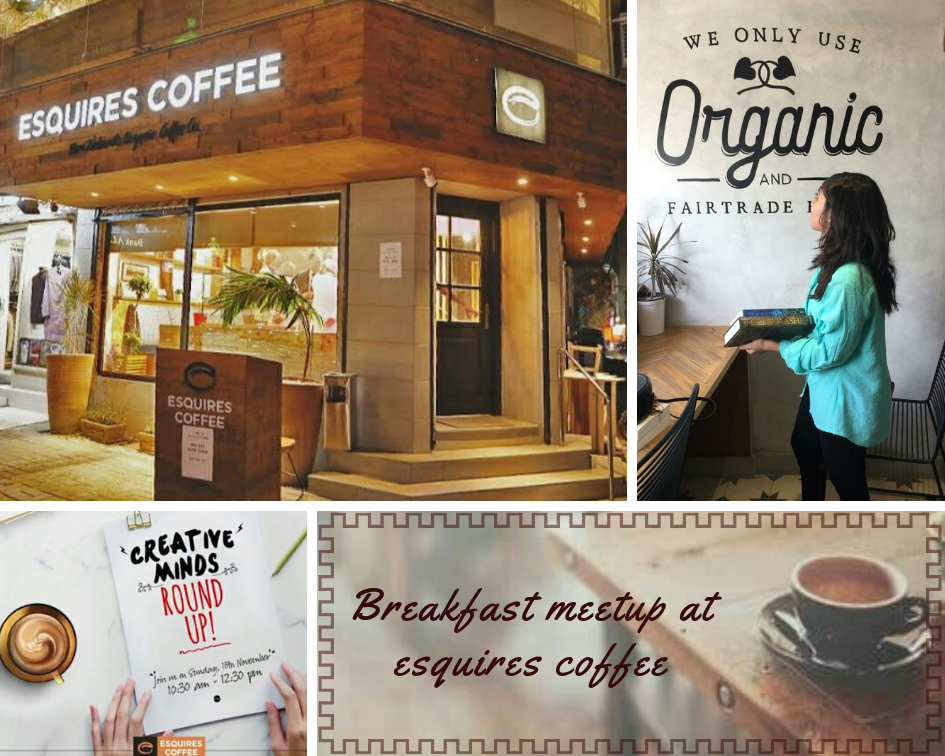 Picture sources: Esquires Coffee-Instagram , Esquires Coffee-Website
How I Got to Know About Esquires Coffee:
A very close and talented blogger friend of mine, Sarah Wazir (Bookgirlingmoments) discovered Esquires Coffee, a few months ago and also collaborated with them for her blog. I obviously follow her all posts on instagram. So, I opened their website to know about them more. Esquires Coffee is actually an international brand with Cafes in New Zealand, UK, Australia, Asia and Middle East. They opened their franchise in Zamzama, Karachi Pakistan in February 2018.
Since I found out about them, I really wanted to visit their cafe because I am a coffee lover. On Friday, 16 November 2018, Sarah texted me about their breakfast meetup and I asked her all the details. I already wanted to meet her badly and we had planned to meet in the coming week but then this event sounded so good and interactive, I told her yes! Lets do this.
The Breakfast meetup, My experience:
I was just so excited for this breakfast meetup and on Saturday night I was planning with Sarah about the books we will bring along with us. Naturally, as book lovers we take one or two books with us everywhere. People may find that weird but who cares!!
Finally, Sunday morning came. I woke up and got ready as fast as I could because I was just too excited to meet Sarah and other new people.
I reached at 10.40 am and an introductory session had already started. Since, I was too excited I was real clumsy while I was sitting down. I greeted Sarah and then they were already onto the introductions so, I gave my short intro. I realised then, these people are creators and so very talented.
This whole breakfast club was arranged by Jehanzeb Paracha (The Chief Executive of Esquires Coffee) and Raahima Nasim (The Social Media Manager of Esquires Coffee). I must say, it was amazingly managed and my first experience at this breakfast meetup was delightful and mezmerising.
Who did I meet? Well let me give you a little introduction of the few people who I met and was able to interact with.
1. Sarah Wazir (bookgirlingmoments-Instagram):
I met her in January 2018 actually and we have been such good friends since then. I am just so glad she told me about this so we could have this amazing experience together. She is a lifestyle and bookblogger. So very talented. I have linked her instagram profile as well as her blog (earlier when I mentioned her). Do check it out.
2. Muhammad Ali :
He is the person behind ocean mall's social media and a person of many talents like graphic designer radio person PR person content creator and a budding Instagram Influencer.
It was so good to know him, about his life and the hardships he faced. How he changed himself in a good and positive way and he takes on challenges in life with a smile. He is such a happy go lucky person and I could actually relate to this.
3. Zain Awan :
He is the brain behind the blog Zainwain. A Marketing & branding professional. Working at at a Digital & PR agency. He blogs about fashion, food and Travel.
Zain discussed about his life in detail and I got to know and learn so much from him. He did not had easy in life but he is happy now with a dream career and travelling as much as he can.
4. Maha Abdul :
Shes is a concept artist, an illustrator and an anime lover. Do check out her instagram page. I have linked it with her name.
I was amazed at her creativity and her deep analysis about various anime movies. Her anime illustrations are outstanding.
5. Huda (Cuckoo Official):
She is a fashion designer and has her own clothing brand that is Cuckoo Official. Her designs are so unique and colorful. I have linked her instagram page. Do check it out.
There were 3 other people whom I met but I was unable to take their contact information. So, now I am hoping to meet them another time.
Jehanzeb Paracha asked us different questions about life in general and he talked about his youth days, about his routine life back then and how Karachi was at that time. Overall, the discussion was very eye opening. I felt refreshed, literally. Meeting these amazing creative people was such a great experience on that Sunday morning.
The ambience of the whole coffee shop was very serene and welcoming. The second picture in this blog is of our breakfast. I ordered a Chocolate Waffle and Vanilla Latte. Sarah tried Crossaint and Mocha Frappe. The breakfast was so mouthwateringly delicious. The coffee was obviously the best.
After we were done with the discussion and it was time to go, me and Sarah stayed a bit longer to take some bookish pictures and enjoy the ambience of this place for a while longer. We literally could stay there for a whole day and still it would not be enough.
End Notes:
Thank you so much Esquires Coffee for having me. Thank you to Jehanzeb Paracha and Raahima Nasim for arranging this amazing breakfast meetup. Please keep having these kinds of meetups with various themes. I literally love your coffee shop and I will try to visit frequently.
Those of you who live in Karachi and are coffee lovers, you guys should definitely check out Esquires Coffee.
Picture credits of the feature image goes to my talented book blogger friend Ipsita from India.
Her blog: MyBookishVibes